Key Performance Measures
END of KS2 Results (Y6) in 2023 - ( 22 children )
When looking at our percentages, please remember that in a small school like ours, in each year group, a child typically represents about 5%.
Our KS2 scores at the end of 2023, were again extremely pleasing, and demonstrated continued improvement. Reading, writing, GPS, and science were all above national at Age Related Expectations (ARE); we were also above national in writing, mathematics, GPS, and RWM combined at Greater Depth (GDS). Scaled scores are another important measure because they include every child's performance, and again our scores are above both the LA and national figures in all three subjects.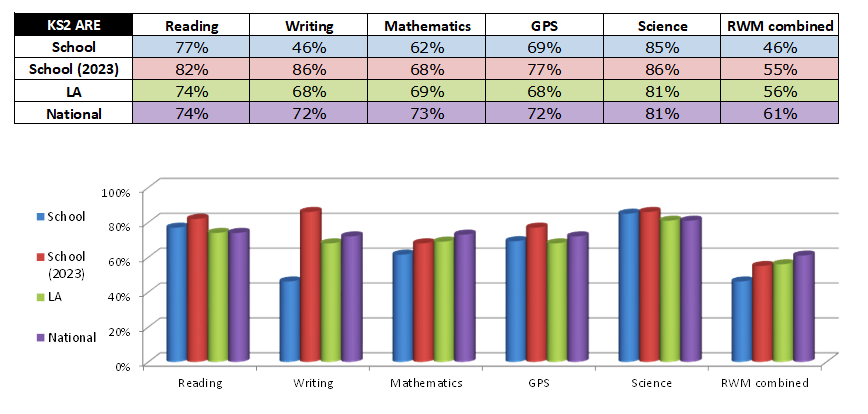 END of KS1 RESULTS (Y2) in 2022 - ( 12 children )
In KS1, our results were much lower than our 2022 results; however, this was expected and correctly reflects this particular cohort, as the learning needs of children in this cohort have skewed our figures significantly. At ARE we are well below national in all subjects except science.
At GDS, we were approximately 2 or 3 children below national, in all measures, and for the same reasons as above. Although not statistically significant, this cohort remains a key focus for support during 2023-24.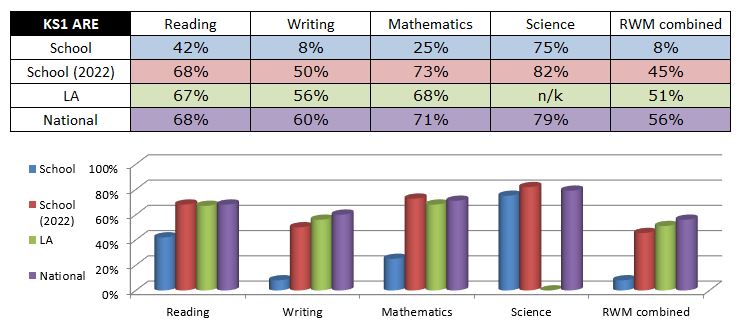 PHONICS (Y1) aND EYFS (reception) in 2023
Our phonics scores were just above national figures. Any child failing to reach the threshold in this Phonics Screening Check (PSC) receives dedicated support to catch up.
With only 16 children in our EYFS this year, each child is therefore worth 6% - however, this was our best year ever for EYFS scores, and demonstrated about two children above national and LA figures for what is called a Good Level of Development (GLD).

WHOLE SCHOOL SUMMARY for 2022/23
As we expected, there were some excellent KS2 results this year, especially in Reading and Writing . Our RWM Combined figure is in line with national (55%), and nearly all of our GDS results were also above national; especially for RWM combined at GDS.
Staff have continued to demonstrate commitment and hard work for all our children and we were very pleased with the overall outcomes. So, having conducted some initial analysis, our next steps for continued improvement during 2023/24 are:
Ensure intervention/support enables all pupils in KS2 to make good or better progress in core subjects
Target precise teaching and learning to reduce any significant gaps in writing and maths in KS1
ARE means working at Age Related Expectations.
GDS means working at Greater Depth within the Standard.
GPS refers to an English test on Grammar, Punctuation and Spelling.
RWM Combined means those pupils achieving a pass or better in Reading and Writing and Mathematics
Scaled Scores convert pupils actual test scores into a ranking system, whereby 100 is considered the pass mark.