Our Diocese
Birdham CE Primary School is a controlled primary school and as such has foundation members of the governing body who are chosen by the Chichester diocese. As a Church of England school we work closely with St James, our local parish, and hold services there every term. Our Rector, Father Jonathan; a local volunteer worker called Frank, and Hugo from another local church all regularly lead collective worship in our school.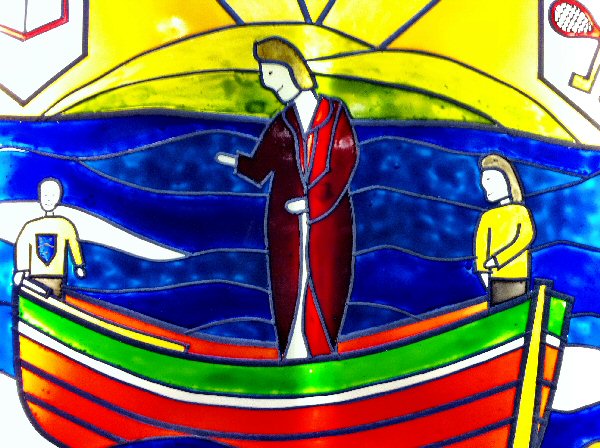 In 1998 our year 5/6 children designed their own stained glass window based on the imagery of the East Window in the church and which now hangs proudly in our school entrance hall. It was dedicated by the Right Reverend Eric Kemp, a former Bishop of Chichester.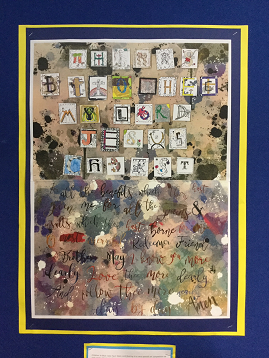 Children in Kingfisher class contributed to a very special art competition as part of the Chichester Diocese year of prayer. The children learned about, copied and created illuminated letters to be used as part of a prayer, and each was then mounted to form the first part of the prayer 'Thanks be to thee my Lord Jesus Christ'. The children were then lucky enough to be invited to take part in a calligraphy workshop run by several talented parents. Here, each child learned from experts how to use the tools required in calligraphy. Each child then wrote part of the calligraphy words forming the second part of the prayer. Finally, they hand finished miniature copies of their illuminated letter design using embossing powders and machines. The competition judges were so impressed that they created a special award for our entry so that the effort involved could be recognised.
Every other year, we host our own Prayers Spaces in the school hall, where children, staff, governors and parents are given an opportunity to explore prayer and spirituality in a unique kinaesthetic way that often especially appeals to a younger audience.
Religious Education (RE) Policy
Our children worked collaboratively to write our new School Prayer, based our our tri-partite vision statement, Love Learning, Love Our World, Love Each Other. Here it is: