Our Curriculum
Birdham CE Primary School, along with nearly all schools nationally, teaches the statutory National Curriculum. We are constantly reviewing our curriculum provision to ensure it meets the needs of all our pupils who are currently in school. This type of adapted curriculum therefore changes slightly every year, but we actively seek external moderation and collaborate with other local schools to ensure our offer is always excellent and the best it can possibly be.
With mixed-aged classes, we deliver our curriculum in 2-year or 3-year rolling cycles to ensure that we maintain coverage, balance and skills progression in each subject and year group. If you want more detail on our curriculum, please look at the class pages on our website. Alternatively, do pop in and ask your child's teacher or ask at the school office.
Below, we show what our whole school curriculum offer looks like: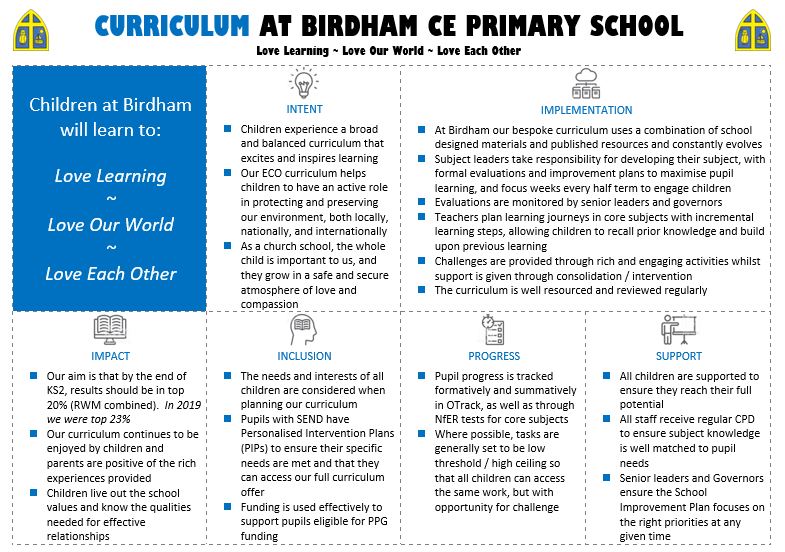 Assessing the attainment of our children in the core subjects of reading, writing and mathematics is a significant piece of work in any school. Teachers will actually make thousands of little assessments across each week for the children in their care, but every term these are of course formalised and recorded. The components that we involve in this process, to ensure consistency, reliability, and accuracy are shown in the pdf below:
How we assess the Core Subjects
This academic year (2023-24), our children are following these curriculum overviews:
Years 4 to 6
Over the years, our excellent teachers have continued to refine how we teach and review what we think are the most important features that make an impact on our teaching and children's learning. As such, we have collated these into a simple model, called the FACE model, based on proven pedagogical research by Griffith and Burns (2014). A simplified graphic below shows these criteria, and we use this model to inform on teaching quality across the school.
Our most recent acquisition is a Double Decker bus - excellent for some small groups of children to read!